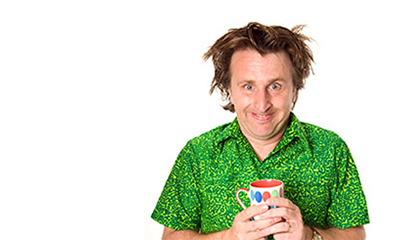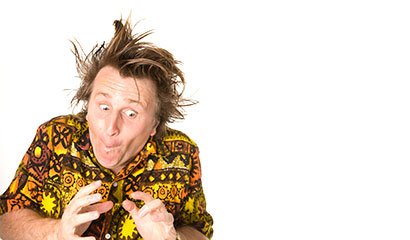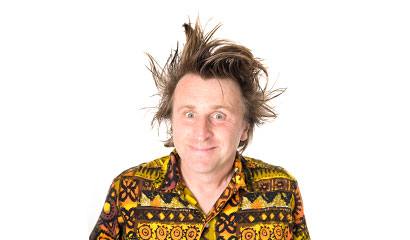 "Another Case Of Milton Jones"
"Another Case Of Milton Jones" - Milton Jones with mug
"Another Case Of Milton Jones" - Milton Jones with mug and face
"Another Case Of Milton Jones" - Milton Jones with attitude
"Another Case Of Milton Jones" - Milton Jones with invisible something
"Another Case Of Milton Jones" - Milton Jones with shirt
"Another Case Of Milton Jones" - Milton Jones with volume
Another Case Of Milton Jones
Another Case Of Milton Jones
"Tune in next week, when you can catch - Another Case of Milton Jones!..."
After the series of "The House Of Milton Jones" in 2003, Milton decided to try a new format. Based on the original title of "The Casebook Of Milton Jones", we hit on the idea that each week, Milton would be an expert in some field, the top man in that profession - master surgeon, brilliant detective, supermodel, whatever - and that each week would be a narrative adventure stopping off along the way for sketches and stand-up. A sort of re-versioning of "The Very World..." which had increasingly tended towards a "profession" for Milton anyway.
As ever, the signature tune and jingles were provided by Guy Jackson. By popular demand, the shouted "Hey!" at the end of the "Very World.." sig was worked in to the new one also...
Series 1
In the first series, we took certain elements of "House Of..." along - the characters of Anton and Susan (now played by Debbie Chazen) and the writing relationship with James Cary. Milton and his sister Susan (usually playing his assistant) would generally meet Anton - who would always prove frustratingly super-attractive to Susan. The other male parts alternated week by week between Milton Jones stalwart Dave Lamb and Steven Kynman (who James had met during "Concrete Cow"), while the other female parts, usually involving playing Milton's girlfriend, were played by Lucy Montgomery.
Over the series, Milton was variously a brilliant Richard Rodgers-style architect, a superchef with an award-winning restaurant, a Formula 1 racing driver, a biogeneticist, an international musical maestro and an International Chess Grandmaster
Series 2
After the success of the new format, we refined it a little further, stripping it back to a smaller cast but a slightly more elaborate storyline. This mean that we now had Milton and effectively, his full-time foil, Anton going out to face the world, which in practice meant Dave Lamb and Lucy Montgomery doing every voice, age and accent under the sun. In this series, Milton plays a barrister who gets involved in an art theft in a tale which somehow morphs into a spoof of "The Da Vinci Code", a race-winning jockey involved in a massive betting scam, the newly-elected Mayor Of London and a globe-trotting explorer who falls in love with the heiress to the Millets fortune...
Series 3
In late 2008, we broadcast the third series, now given not only its usual 6.30 slot on Mondays but the glorious Sunday lunchtime repeat. With various cast members' babies being imminent, this meant that Lucy Montgomery & Dave Lamb had to stand down, with the result that the wonderful Ingrid Oliver joined the cast, with the male parts being shared out between Ben Willbond (the co-creator/star of "Deep Trouble") and writer/performer Dan Tetsell ("The Museum Of Everything" and "Lab Rats"). This time out, Milton, assisted as ever by the imperturbable Anton, contrived to be an international photographer, a David Blaine-style magician and illusionist, a health guru and seller of mad dietary products and an antiques expert and collector...
The show was nominated for the Chortle Award for "Best Use Of Stand-Up On TV or Radio", an unusual but surprisingly apt category.
Series 4
This new series, upgraded from four to six shows, aired throughout February and March 2010. As well as our new regulars Ingrid Oliver, Ben Willbond & Dan Tetsell, we welcomed back Lucy Montgomery fresh from her success in Bellamy's People and Dave Lamb, fresh from being the unmistakeable voice of Come Dine With Me. This time out, Milton, assisted as ever by the imperturbable Anton as played by the perturbable Tom Goodman-Hill was variously a mathematician, a world-beating cyclist, a travel expert, a weatherman, a miner and, for some reason, a cross between an ornithologist and a test pilot...
Series 5
This next series of six shows went on air between July and August of 2011 and as well as regulars Ben Willbond, Dan Tetsell, Lucy Montgomery & the inimitable Dave Lamb, the show was also joined by Margaret Cabourn-Smith (taking time off from Bigipedia) - plus the ever-steady hand of Anton brought to life once more by Tom Goodman-Hill. The series kicked off with Milton in a Brian Cox-ular vein as a celebrity Astronomer, and proceed by way of him being a Royal Speech Therapist in a "Kings Speech" spoof, an Eddie Stobart haulage mogul, a gardener who tangles with an Alan Titchmarsh-style villain and a WikiLeaks freedom fighter all the way to Milton being the world's most famous Undercover Journalist. Which makes him a very bad Undercover Journalist...
Another Case Of Milton Jones
---
Take it further ...
Other shows in RADIO ...