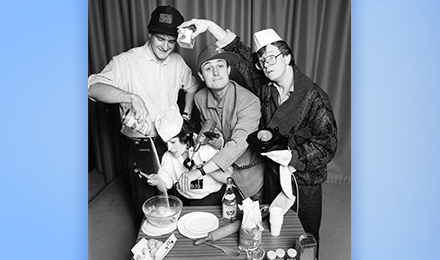 "Dial 'M' For Pizza" - l to r Robert Bathurst, Brenda Blethyn, Jonathan Kydd, Mike Grady
"Dial 'M' For Pizza" - l to r Robert Bathurst, Jonathan Kydd, Brenda Blethyn, Mike Grady
Dial M For Pizza
Dial "M" For Pizza was a sketch show created by writers Ian Brown and James Hendrie for Radio 4. Originally piloted by producer Paul Mayhew-Archer, David Tyler took over the subsequent series commission as Paul had left radio to go to Hat Trick to produce "This Is David Landor" for Channel 4.

With a core cast of Jonathan Kydd, Mike Grady (Wolfie Smith's downtrodden helper, Ken, in "Citizen Smith"), Brenda Blethyn and Robert Bathurst, the second series was occasionally augmented by guest performers, such as Jim Broadbent, Morwenna Banks and Felicity Montagu (Lynn from "I'm Alan Partridge"). A pure and simple sketch show, with no linking devices - albeit with one set of running characters, up-and-coming yuppies Richard & Dulcie ("Rich & Dull", played by Jonathan and Brenda), the show ran for two series in December 1987 and a year later, in December 1988. In the first episode of Series 2, Rich & Dul got to meet their hero, the real-life Jonathan Ross, freshly famous for his show The Last Resort - for which Ian had been the Head Writer.

The title music was by Guy Jackson, combining a mysterious waltz theme with various telephone sounds. In 1988, remember...

The show was written entirely by Ian and James, except for the occasional quickie that was allowed to creep in, usually written by Malcolm Williamson.
Dial M For Pizza
Series 1
Series 2
Dial M For Pizza
Hear the mysterious theme tune... as composed by Guy Jackson (who also writes and performs all the Milton Jones signature tunes as well as the medieval jingles for The Castle).
Have a look at some more photos of the cast and (ulp) the writers by going to the gallery.
The show has never been released on CD by the Beeb. Give them a shout!
---
Take it further ...
Other shows in GEOFF & DAVID ...