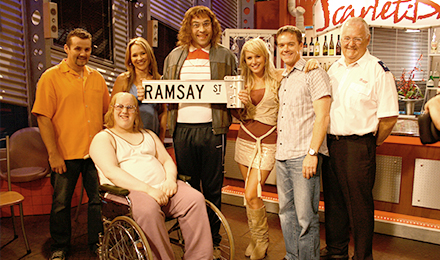 "Little Britain Down Under" - Lou and Andy in Neighbours
Little Britain
Following the massively successful Series 1 of Little Britain in 2003, the second series was swiftly commissioned, but when the original producer Myfanwy Moore went on maternity leave, the BBC asked Geoff Posner to produce it in her stead. He then went on to produce Series 3 and the 2006 Christmas Specials, the two episodes of Little Britain Abroad, which won an International Emmy and a BAFTA.

Since then, Geoff has also directed the touring version of the stage show "Little Britain Live!" and Executive Produced the documentary about the tour in Australia, "Little Britain Down Under".
Little Britain
Series 2
Series 3
Little Britain Abroad
2-part Christmas Special
Part 1 first Tx 25/12/06
Part 2 first Tx 30/12/06

Little Britain
Little Britain - what can we add to the massive amount that's out there on the net? But just in case you haven't got absolutely everything yet, here are a few links -
Buy Series 2 on DVD by clicking here
Buy Series 3 as well? Click here
Then there's the joy of the tour DVD - Little Britain Live
"I want that one!" How could you resist Little Britain Abroad on DVD?
Watch clips of Little Britain here which includes a clip from the Little Britain Down Under Documentary.
---
Other shows in GEOFF & DAVID ...