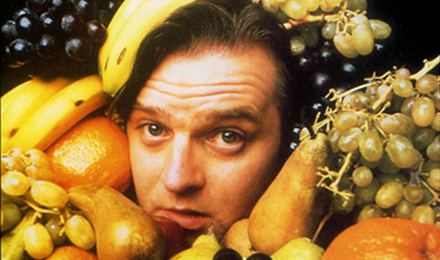 "Paul Merton - The Series"
Paul Merton - The Series - the POW sketch
Paul Merton - The Series
"Innit marvellous..."

In 1990, Paul Merton and his schoolfriend and long-term collaborator, stand-up John Irwin wanted to create a show for Paul, following on from The Big Fun Show on Radio 4. It was commissioned by Channel 4 to be made by Hat Trick, and was called "Paul Merton - The Series".

Originally slated to be directed by Ed Bye, there was a delay of a year, at which point, we asked Geoff (Posner) to direct the show, this being the first time Geoff and David (who was producing) had worked together.

The show itself was a mixture of sketches and, most iconically, stand-up delivered by Paul from a tobacconist's kiosk inside a Tube station. Memorable moments include the talking dolphin somehow getting mixed up with Paul's fiancée-to-be, Caroline Quentin.

Paul's most famous joke - "My dad said "Don't worry about the bombs. The only bomb you've got to worry about is the one with your name on it". Which really worried my neighbours. Mr & Mrs. Doodlebug" - was eagerly anticipated throughout the series, and eventually appeared after the final credits of the final series.

Series 2
Re-commissioned as a series of six, we decided to make the show slightly more "personal" by cutting back on the cast and, wherever possible, having pretty much all the parts played by a rep of four - co-writer John Irwin, Neil Mullarkey, Robert Harley ("Green Wing") & Ben Miller ("Armstrong & Miller").

We also changed the rhythm of the show by having more quickies, and by letting Paul address the camera directly in sketches, subverting them at the same time as performing in them, most noticeably in the Submarine sketch (with Robert Daws) and the Frankenstein sketch.

Notable moments during filming came when, during a scene where Paul, as an SAS man, had blown up a fishpond, a large amount of fish was supposed to crash-land on John Irwin's Sentry Box, it landed instead on John himself. A lot of fish can be extremely heavy, and John did have to lie down for quite a while.... The dolphin made a return visit, as did Delia Smith and for some reason, Bob Holness...
Paul Merton - The Series
Series 1
Series 2
Paul Merton - The Series
To read more about Paul Merton on the BBC's website click here
Click here to hear the famously mournful signature tune. It's called "Please Maestro" and it's French.
Click here to see the original handwritten first copy of the "Meters" sketch with the "Gas", "Electricity" and "Non-Zebra" meters. Written by Paul Merton and John Irwin, this first draft has an elephant for the punchline. A zebra was a compromise. Isn't it always?
The first series was released on video (but not yet on DVD) and you can still hunt it down - click here - It's most excellent. See if Channel 4 will release the second series sometime......
and best of all, Paul Merton himself has released a DVD covering his whole career, "The Paul Merton Collection", including many extracts from the show - click here
---
Other shows in GEOFF & DAVID ...