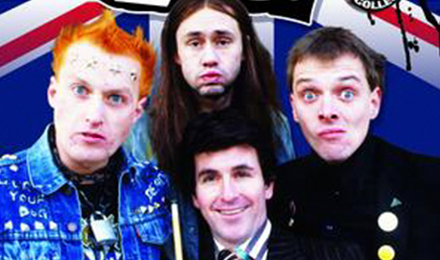 The Young Ones
The Young Ones crystallized the explosion in Alternative Comedy that had been brewing in clubs and on radio and the fringes of television. Set in a studenty flat and starring Rik Mayall as Rick, Adrian Edmondson as Vyvyan, Nigel Planer as Neil, Christopher Ryan as Mike, the show appeared to disregard structural conventions and its energy - and the fact that it was profoundly funny - breathed life into the sitcom format. It also played with the fourth wall concept by having a band play in the house each week, notable visitors including Madness and Dexy's Midnight Runners.

It was produced by Paul Jackson and directed (apart from two episodes) by Geoff Posner.
The Young Ones
Series 1
Series 2
The Young Ones
The Young Ones has a massive internet footprint. You can read more about The Young Ones on the BBC website here
You can buy the DVD of series 1 here and indeed, you can find series 2 here
Both have just been released in a new DVD which you can find by clicking here
And, yep, there's even the book, "Bachelor Boys". Which is extremely funny... you could buy it here
---
Other shows in GEOFF & DAVID ...