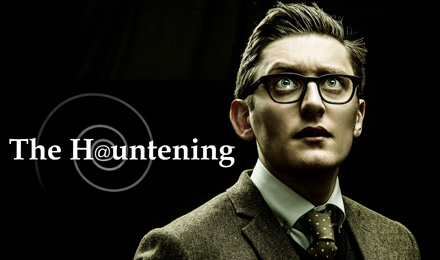 Tom Neenan in The Hauntening
The Hauntening
Writer and performer Tom Neenan came up with this brilliant idea for a modern-day series of ghost stories - as our blurb says:
"Travel through the bad gateway in this modern ghost story as Tom Neenan discovers what horrors may lurk in our apps and gadgets...
Modern technology is terrifying. The average smartphone carries out three-point-three-six billion instructions per second. The average person can only carry out one instruction in that time. Stop and think about that for a second. Sorry, that's two instructions; you won't be able to do that.
But what if modern technology was... literally terrifying? What if there really was a ghost in the machine?"
The shows went out in the run up to Halloween 2018 and caught the attention of a huge number of hitherto-unsuspected Sci-Fi and Horror magazines and websites...
... and was thereupon promptly recommissioned for a run of three, which as anyone will tell you without the aid of a calculator, is an increase of 50%...
The new shows saw the return of Tom & Heidi, with special guests Vincent Franklin, Nicola Walker, Naz Osmanoglu and Max & Ivan's very own Ivan Gonzalez - together with the redoubtable Ewan Bailey, promoted from playing a fridge to a human. Sort of... The series was nominated for a Writers Guild award for best Audio Comedy.
The third series of four, (yep, increasing all the time, well spotted) included the entirely major talents of Nina Sosanya, Georgie Glen, Andy Nyman, Julian Rhind-Tutt, Freya Parker and Dan Tetsell playing the most irritating man in the world, or, as Tom wrote in the stage directions "you can almost hear the ponytail"...
The Hauntening
The Hauntening
---
Other shows in RADIO ...