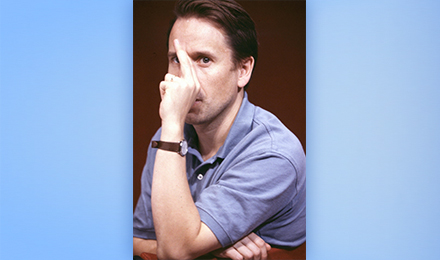 "Jeremy Hardy Speaks To the Nation"
"Jeremy Hardy Speaks To the Nation"
"Jeremy Hardy Speaks To the Nation"
Jeremy Hardy Speaks To The Nation (Series 9) Episode 2 -- ''How To Be A Woman In The 21st Century''
Jeremy Hardy Speaks To The Nation
Jeremy Hardy Speaks To The Nation: The Complete s1-10
Few can forget where they were twenty years ago when they first heard "Jeremy Hardy Speaks To The Nation". The show was an immediate smash-hit success, causing pubs to empty on a Saturday night, which was particularly astonishing since the show went out on Thursdays. The Light Entertainment department was besieged, questions were asked in the House and Jeremy Hardy himself became known as the man responsible for the funniest show on radio since Money Box Live with Vincent Duggleby.

Since that fateful first series, Jeremy went on to win Sony awards, Writers Guild nominations and a Nobel Prize for Chemistry. He is a much-loved regular on both The News Quiz and I'm Sorry I Haven't A Clue.

His unique world view once lead him to be likened to "an incendiary vicar" - Gillian Reynolds called him "an idealist, a dissenter, a polemicist and moralist - he's a salutary reminder that jokes can, and should, be about big things". Like Islamic Fundamentalism and Jade Goody.

"Kids should never be fashion slaves, especially in the Far East. My 12-year old daughter asked me for a new pair of trainers. I told her she was old enough to go out and make her own".

"I'm sure Tony Blair sees himself as a defender of the free world. He probably thinks he's doing God's work. Hardly anyone wakes up thinking, "How can I make the world a worse place today?" except perhaps Noel Edmonds."

"When women carrying babies go begging on the Underground, they get accused of using as them props. Where are they supposed to leave them? The beggars' creche at Oxford Circus?"

"Islam is no weirder than Christianity. Both are just Judaism with the jokes taken out."


"The master of quietly inflammatory comedy"
- The Evening Standard


"Made me drop the kettle in shock , but worth it"
- Gillian Reynolds in The Daily Telegraph


"The one-liners come hit the target time and again so that you've hardly stopped grinning from one gag before the next one comes along …"
The Evening Standard

Pilot & Series 1

The pilot - "How To Be Truly Free" was recorded in November 1992. Quickly commissioned as the first of a six part series, it set the pattern for Jeremy's mock-pompous lecture, suitably punctured at every opportunity by Debbie Isitt ("Confetti") and Steve Frost ("The Wow Show"). The opening and closing announcements were first tried out with Brian Perkins, but we changed to Peter Donaldson - who has done every single show since.

The series was the first fully-fledged independent radio comedy commission.

It also went straight onto a Canned Laughter cassette (for BBC Enterprises), was published in book form (by Methuen), was nominated for the Sony Award, the British Comedy Awards and for the Writers Guild Best Radio Script Award, and had the honour of paying a visit to the Broadcasting Standards Council for three of its six transmissions (something about Andrew Lloyd-Webber and some peanut butter).

Series 2 & 3

Series 2 was another run of six, including such titles as "How To Be A Popular Figure Around Town" and "How To Be A Leader Of Men". It introduced newcomer Gordon Kennedy ("Absolutely", "Robin Hood") for the first time, and he has appeared in every series since.

Mainly due to one particular episode, Series 2 had the distinction of being the third-most complained about series on radio or television that year, following East Enders and Cracker.

Series 3 continued in the same vein, so much so that the BBC then tried to move it from it's 6.30 peaktime slot to the later, safer 11.30pm comedy slot. That probably explains why there's a gap of some four years before the next series...

Debbie Isitt's occasional disappearances to go off and make her own movies led to guest appearances from Meera Syal and Caroline Leddy.

Series 4 & 5

The fourth series was trotting along very nicely until the recording on the day of September 11th 2001. Jeremy was still working on the script when the Twin Towers happened. Going over to BBC Broadcasting House to start rehearsals was an odd experience, as it was fast becoming the hub of all journalistic activity in the UK. After about half an hour's desultory rehearsal, Caroline Raphael, our Commissioning Editor poked her head round the door and pretty much told us that there wouldn't be any comedy on radio 4 that week, so it wasn't really worth recording the show. We took the immediate executive decision to go to the pub and ponder events. Very strange.

That show reappeared a couple of weeks later, and to fill the gap, Jeremy created a spoof "archive" edition of his own show, called "When Jeremy Hardy Spoke To The Nation". Narrated by Graeme Garden, the show was a fake biography of Jeremy, who was in prison for "covetousness in the face of the enemy".

Series 6 & 7
Because series regular Debbie Isitt was unavailable, Jeremy went off on a new tack for this series, by having a different female guest actress in each show, playing a version of themselves. Series 6 starred Rebecca Front, Alison Steadman, Pauline McLynn ("Father Ted") and Juliet Stevenson and Series 7 added an appearance from Miranda Richardson.

Series 7 also coincided with Gordon Kennedy filming the second series of Robin Hood for the BBC in Hungary or somewhere. Rumania? Either way, for the last two shows, Jeremy teamed up with long-time collaborator and co-star of the original "Unnatural Acts"/"At Home With The Hardys" writer/performer Paul Bassett Davies.

And more...
The three most recent series - 8, 9 & 10 - have continued the pattern of having guest actresses playing versions of themselves; over Series 8 & 9, Jeremy has welcomed Sara Pascoe, Katy Brand, Morwenna Banks, Vicki Pepperdine & Shappi Khorsandi to the show, as well as Sue Perkins, most memorably describing herself as "a lady buggeress"... And the post-Scottish Independence Referendum edition proudly featured yet another Absolutelee, Mr Moray Hunter


Jeremy Hardy's New Year Cavalcade
Commissioned to do a Christmas Special one year, Jeremy decided instead to try a New Year's one instead. In a guest/panel format, he buttonholed guests Jack Dee, Armando Iannucci and John Oliver in a mixture of sketches, opinion and fantasy.
Jeremy Hardy Speaks To The Nation
Jeremy Hardy Speaks To The Nation
We're delighted to tell you that all of Series 1 to 10 are now available to download via iTunes or on Amazon
As well as every episode, these links will also get you to the New Year Special, "Jeremy Hardy's New Cavalcade' which starred John Oliver, Jack Dee and Armando Iannucci.
There's also a book of "Jeremy Hardy Speaks To The Nation" which Jeremy wrote a while back, mainly concerning material in the first two series - How To Be A Father, How To Have Sex, How To Have A Baby etc etc, and you can probably get it here
Take a look at the lovely flyer we sent out to advertize the start of the 9th series by clicking here...
Play the Signture Tune - unchanged for sixteen years, it was intended to sound a bit old and News Reel-y even then...
You can look at pictures of the cast from the first series - Jeremy, Debbie Isitt and Steve Frost
Ooh, and finally - here's a link to lovely Peter Donaldson, who's done every single opening and closing announcement since 1991...
---
Take it further ...
Other shows in RADIO ...