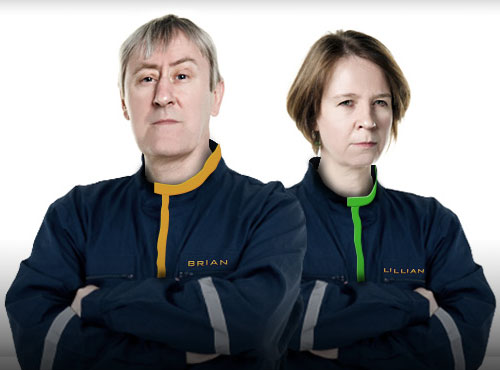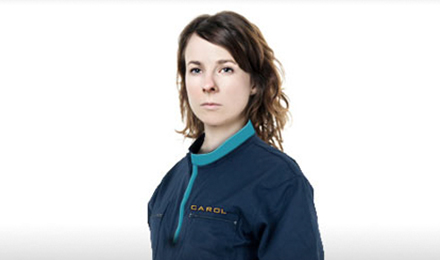 ''My First Planet'' - from l to r, John Dorney as Richard, Letty Butler as Carol, Nicholas Lyndhurst as Brian, Vicki Pepperdine as Lillian, Tom Goodman-Hill as Mason & Phil Whelans as Archer
''My First Planet'' - Nicholas Lyndhurst as Brian
''My First Planet'' - Vicki Pepperdine as Lillian
''My First Planet'' - Nicholas Lyndhurst as Brian & Vicki Pepperdine as Lillian
''My First Planet'' - Cariad Lloyd as Carol
''My First Planet'' - John Dorney as Richard
''My First Planet'' - Phil Whelans as Archer
''My First Planet'' - Tom Goodman-Hill as Mason
My First Planet
My First Planet: The Complete s1-2
More 'soc-fi' than sci-fi, My First Planet charts the adventures of the first human colony on another planet. We're aware that having been in deep cryosleep for 73 years, you may be in need of some supplementary information:

Personnel:
Unfortunately, Burrows the leader of the colony has died on the voyage, so his Number 2, Brian (Nicholas Lyndhurst) is now in charge. He's a nice enough chap, but no alpha male, and his desire to sort things out with a nice friendly meeting infuriates the colony's Chief Physician Lillian (Vicki Pepperdine), who'd really rather everyone was walking round in tight colour-coded tunics and saluting each other. She's also in charge of Project Adam, the plan to conceive and give birth to the first colony-born baby. Unfortunately, the two people hand-picked for this purpose – Carol (Best Edinburgh Newcomer Nominee 2011 Cariad Lloyd in the first series, Letty Butler in Series 2) and Richard (John Dorney) - were rather fibbing about being a couple, just to get on the trip.

Add in an entirely unscrupulous Chief Scientist, Mason (Tom Goodman-Hill) and also Archer (Writer Phil Whelans), an idiot maintenance man who believes he's an "empath" rather than a plumber and you're all set to answer the question: if humankind were to colonize space, is it destined to succumb to self-interest, prejudice and infighting? (By the way, the answer's "yes". Sorry.)

The first series also featured guest performances by Gus Brown as 'Scalding' and Clever Peter's own Richard Bond as the luckless 'Carshalton'.

Series 1

"The Landing Has Landed"
Day 1 on the colony and they've lost the food, the air, the Commander and the Mood Music. Meanwhile, Chief Physician Lillian makes a terrible discovery about Project Adam…

"Hairdresser from Space"
Day 7 on the colony, and Mason stirs up an ethical nightmare involving a clone, a murder and some dreadlocks. Meanwhile, Archer the handyman attempts some repairs on his own head.

"The Noticeboard of Doom"
Day 27 and the colonists are torn between Richard's newsletter and Archer's hot pants. And which is more dangerous - Brian's monkey wrench or Lillian's "vitamin" drink?

"Inglorious Barters"
A queue for the loo and a rogue backrub threaten to blow up the colony. And just what is Lillian's "Special Skill"…?
Series 2
The second series was commissioned almost straight away, and bumped up from a generous 4 episodes to a munificent 6! We had one casting change, where Letty Butler, of sketch group LetLuce took over the reins as Carol, and once again, we had some great guests over the series, including that splendid Penny Dreadful Thom Tuck and Oram & Meeten's very own Tom Meeten...

My First Planet
Series 1
Series 2
My First Planet
The complete first series is now available to buy as a download on iTunes or by clicking here.
And have a look at the lovely flyer we sent out to mark the start of the series by clicking here.
---
Other shows in RADIO ...