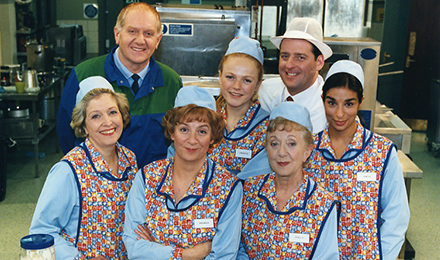 "dinnerladies" - from l to r Jean (Anne Reid), Twinkle (Maxine Peake), Bren (Victoria Wood), Anita (Shobna Gulati), Dolly (Thelma Barlow)
"dinnerladies" - from l to r Philippa (Celia Imrie), Stan (Duncan Preston), Bren (Victoria Wood), Twinkle (Maxine Peake), Tony (Andrew Dunn), Petula (Julie Walters)
"dinnerladies" - from l to r Jean (Anne Reid), Stan (Duncan Preston), Bren (Victoria Wood), Twinkle (Maxine Peake), Dolly (Thelma Barlow), Tony (Andrew Dunn), Anita (Shobna Gulati)
dinnerladies
In 1997, Victoria Wood quietly pulled a white catering cap low over her hair and went to work anonymously for a fortnight in a canteen of a factory somewhere in the mysterious North. That experience was one of the links in the chain of her creating "dinnerladies", a sitcom that ran on BBC One for sixteen episodes, and won numerous awards and accolades. Creating specially written parts, not just for her semi-regular team of "As Seen On TV" cohorts - Duncan Preston, Celia Imrie and Anne Reid; she also created a part for Thelma Barlow, just recently left Coronation Street after 26 years playing Mavis Riley. And she also created a part for Julie Walters as her monstrous mother, Petula.

Shot at BBC Television Centre, directed by Geoff Posner and co-produced by Victoria and Geoff (the show was actually a Pozzitive/Good Fun co-production), the script was recorded on the Friday of each week, then - almost uniquely at the time for a British sitcom - they would watch the rushes Saturday morning and then Victoria would rewrite and retune, while the actors - who hated this procedure with a wry vengeance - would rehearse the new dialogue in time to record the whole show again on the Saturday night. The Americans do this without blinking, but in the UK...

As well as being a sitcom, the show had serial elements, particularly the second series, where storylines such as Tony's cancer, Bren and Tony's relationship and Jean's husband troubles. Also, the timescale of each episode and the date and day on which it was taking place were quite specific in each script, so that storylines arcs were believable. This all contributed to an unexpected profundity that few sitcoms have reached, based as it was on truthful characters with real things happening to them. And then, of course, talking about those things in a uniquely funny way. That helps...

One fo the most extraordinary episodes was the fourth show of the first series - "Moods" - where the regular workers in the canteen were asked to bring their parents along to a tea party. To describe the cast as "stellar" would be an understatement; the readthrough was a living breathing encyclopaedia of the last fifty years of British comedy. As well as the wonderful regulars, there was Dame Thora Hird, Dora Bryan, Elspet Gray, and, playing Stan's dad - Eric Sykes. You could have heard a pin drop the moment before he said his first line, And you wouldn't have heard a lorryload of pins dropping afterwards, because the whole room was laughing...

After 16 episodes - in fact, Victoria had written eight scripts for the first series, but discarded two of them as "not being good enough" - hmm - she called it a day, but the show still stands as a triumph of the ensemble blue-collar audience sitcom with heart.
dinnerladies
Series 1
Series 2
dinnerladies
Have a look at this "Cast & Crew" photo, and score a bacon sarnie for every famous face you can spot.
"dinnerladies" has been turned into a book, an audio cassette, and a DVD, but sadly not a tea towel. Yet.
Both series are available on DVD to "collect" as they say when they mean "buy" - here are some links.
To buy Series 1 on DVD, click here
This may be out of stock - it was issued by the BBC and they can be a bit erratic - but never fear, it was re-released by a company called "Playback", here
And glory be, both series together in one box are alive and well and living here
The audio version has a special linking commentary by Duncan Preston and can be found by clicking here
There's also a great book of the scripts of the first series, with a brilliant behind-the-scenes piece and rehearsal photos and so on...
---
Take it further ...
Other shows in TELEVISION ...