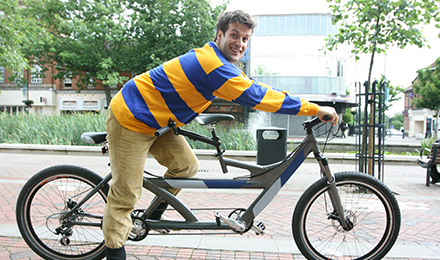 Marcus Brigstocke as Giles Wemmbley Hogg at Glastonbury
Marcus Brigstocke as Giles Wemmbley Hogg at Glastonbury
Marcus Brigstocke as Giles Wemmbley Hogg Going Off - To Glastonbury
Marcus Brigstocke as Giles Wemmbley Hogg at Glastonbury
Marcus Brigstocke as Giles Wemmbley Hogg at Glastonbury
Giles Wemmbley Hogg Goes Off... To Glastonbury
Giles Wemmbley Hogg Goes Off... To Glastonbury
June 2007, and Giles Wemmbley Hogg 2m's, 2g's, traveller, backpacker, ethnologist, fearless investigator of cultural diversity, and upper middle-class student ponce from Budleigh Salterton finally makes his debut on national television!

... and reports back from Glastonbury as if it was a foreign country, complete with his reactions to the music, the mayhem, the mud and the endless endless hummus.

Imagine - a scene where Giles is taken in hand by eco-folk who explain in great detail why every single stitch of his clothing is exploitative, at which point he goes naked for a few days

Imagine - a scene where he arrives a few days early and unwittingly pitches his tent right in front of the Pyramid Stage.

Imagine - a scene of confusion as Giles watches Pete Townsend and Roger Daltrey playing and tries to ask passers-by what the name of the band is...

Imagine - a scene where he tries to run a Fusion World Cuisine food stall, but given an authentic Devon flavour by slapping the whole lot in a pastie

Don't imagine - a scene in the toilets.

Much of the show was filmed on location at Glastonbury 2007, and most of the crew spent most of the time hauling trolleys full of camera equipment through the wet wet mud.
Giles Wemmbley Hogg Goes Off... To Glastonbury
First Tx: 6/7/07 22.00-22.30 BBC Four
---
Take it further ...
Other shows in TELEVISION ...