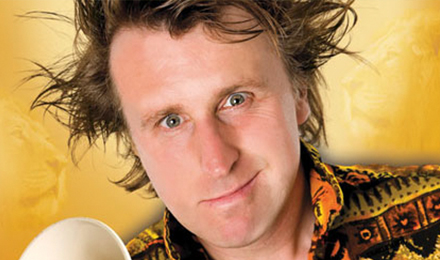 "Milton Jones - Lion Whisperer"
Milton Jones - Lion Whisperer
Milton Jones (Another Case Of Milton Jones, ITV's For One Night Only, Mock The Week) - you know, the weird bloke with the shirts - has rounded up the very best of his dazzling one-liners in this DVD bursting with all-new material. Guaranteed to have you in fits of laughter, and absolutely lion-free, you too can find out why the Guardian described Milton as the "Sultan of the surreal", why he's won a string of major comedy, radio and stand-up awards and exactly who comedy website Chortle called "The best one-liner merchant in British Comedy".
Clue - it's Milton.
Milton Jones - Lion Whisperer
Recorded 20/08/11
Starring
Milton Jones
Written by
Milton Jones

Floor Manager
Alex Leventhall

Camera Supervisor
Rob Mansfield

Camera Operators
Lincoln Abraham
Mike Callan
Kevin French
Mark Jerome
Max Leighton

Camera Assistants
Alpha Barrie
Bonny Lockhart

OB Manager
Tony Mawby

OB
Shooting Partners

Vision Mixer
Barbara Hicks

Gaffer
James Tinsley

Moving Light Operator
Martyn Rourke

Editor
Mykola Pawluk

With thanks to
The Staff of the Bloomsbury Theatre
Red Box New Media

Sound Supervisor
Bob Newton

Lighting Director
Gurdip Mahal

Set Designer
Jonathan Paul Green

Art Director
Louise Lyons

Production Team
Robert Leventhall
Hugo Mitchell
Sian Tomlinson

Production Coordinator
Katie Storey

Production Manager
Polly Coupland

Executive Producer
Jed Leventhall

Directed by
Geoff Posner
Produced by
Geoff Posner
David Tyler
Milton Jones - Lion Whisperer
Milton Jones, Milton Jones, so good they named him!
Click here to buy the DVD and indeed here to buy the audio-only version
- and here is a link to Milton Jones's own website where you can find out when and where he's touring
If you would like to read more about Milton you can go to his entry in Wikipedia or to this site called Comedy CV
---
Other shows in TELEVISION ...