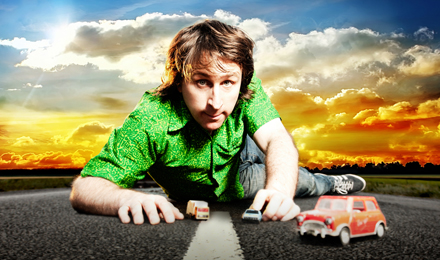 "Milton Jones Live - On The Road"
Milton Jones Live - On The Road
In 2013, Milton Jones took to the road again, and once again Pozzitive filmed the DVD and put it in a box for the public's viewing pleasure. Here's the blurb on the DVD -
Milton Jones (Mock The Week, Dave's One Night Stand, Another Case Of Milton Jones, Live At The Apollo) has been On The Road with his all-new show and now he's On The Way to your home with a bumper collections of brilliant jokes and one-liners that will leave you On The Floor with laughter.

Yes, Milton Jones - the man they call "Oh, him with the shirts and the mad hair, oh, we like him, don't we..." -

"No-one can touch Jones when he hits his stride" The Guardian
"King of the surreal one-liners" The Times

The show was filmed at the Bloomsbury Theatre
Milton Jones Live - On The Road
Recorded 7/09/13
Starring
Milton Jones
Written by
Milton Jones

Floor Manager
Alex Leventhall

Camera Supervisor
Adrian Homeshaw

Camera Operators
Matt Ingham
Rob Mcdonald
Derek Pennell
Martin Schlote
Brian Shatwell

Camera Assistants
Alex Boodt
Martin Kitchen
Chris Mahoney
Clifford Smith
Steve White

OB
Multicamera Solutions

Vision Mixer
Naomi Neufeld

Gaffer
Ian Mulachy

Console Operator
Mark Ninnim

Editor
Nick King

With Thanks To
The Staff Of The Bloomsbury Theatre
Red Box New Media

Sound Supervisor
Kevin Amos

Lighting Director
Gurdip Mahal

Lighting Director
Chris Rigby

Set Designer
Greg Shaw

Art Director
Caroline Steiner

Production Team
Josh Grant
Matt Leventhall
Robert Leventhall
Sophie Wing

Production Coordinator
Katie Storey

Executive Producer
Jed Leventhall

Directed by
Geoff Posner
Produced by
Geoff Posner
David Tyler
---
Other shows in TELEVISION ...