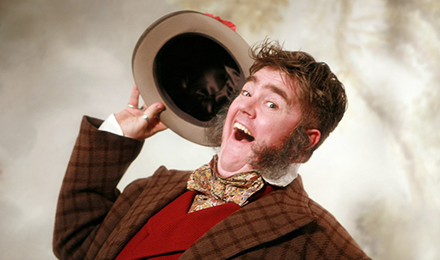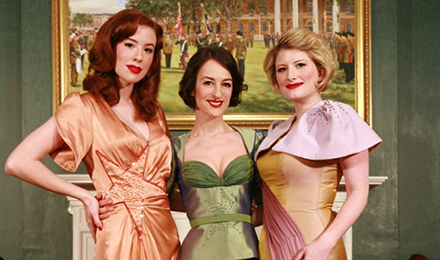 "Music Hall Meltdown" - Poster
"Music Hall Meltdown" - Harry Enfield
"Music Hall Meltdown" - We Are Klang
"Music Hall Meltdown" - Jo Caulfield
"Music Hall Meltdown" - Mr Hudson & The Library
"Music Hall Meltdown" - Phil Jupitus
"Music Hall Meltdown" - The Puppini Sisters
"Music Hall Meltdown" - Count Arthur Strong
"Music Hall Meltdown" - Bruce Airhead
"Music Hall Meltdown" - Jeremy Lion & Lesley
Music Hall Meltdown - Harry Enfield
Music Hall Meltdown
In September 2006, Pozzitive was asked to pitch for a Music Hall idea BBC Four were looking for to complete their Edwardian Season in Spring 2007. Rather than do a dry history-of-the-Music-Hall thing, we decided to use the concept as a stepping stone to creating a big Comedy and Music spectacular, fitting with the Music Hall's original role as mass popular entertainment. A popular colourful raucous entertainment, comedy, variety and music, but in a modern age.

We looked around for suitable venues, including Wilton's Music Hall (only discover that it was too distressed and authentic), and then hit upon the Clapham Grand, leading to our title for the show - "Down At the Old Clapham Grand". After a brief pause for thought, we changed it back to the original title of "Music Hall Meltdown" - which had only been a Working Title for the treatment - , because it was felt it that the Clapham Grand one might be too London-o-centric to the viewers.

We tarted the place up, put up lots of lights, got the Health & Safety people to allow us to open up the massively high and steep top gallery and recorded the show on the 28th of March, with it transmitting on BBC Four on the 7th of May.

Unusually, the show went out with a specially recorded pre-trailer voiced by co-host Phill Jupitus.

Highlights of the evening for us included watching Bruce Airhead struggling into his giant green balloon, the creation the first TV incarnation of Giles Wemmbley Hogg with a travelling slide show (prefiguring his TV trip to Glastonbury later that year), and the quick-thinking Costume Designer who, with seconds to go, spotted that Harry Enfield's Napoleonic prosthetic bollocks had got stuck (as it were) and managed to push them into the correct comedy position seconds before him emerging on stage...
Music Hall Meltdown
First Tx: 07/05/07 BBC Four
Music Hall Meltdown
Have a look at the photo gallery
Have a look at the Music Hall-style the "poster" for the show
For more info on the original Music Hall, Wikipedia is good - click here
Harry Enfield's Napoleonic genitalia were made by a brilliant prosthetics artist called Neil Gorton, If you ever need something similar, here's his website
---
Take it further ...
Other shows in TELEVISION ...