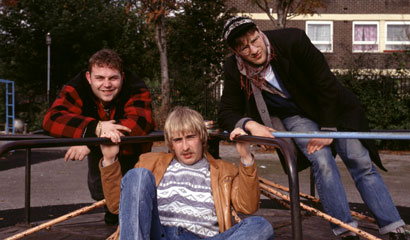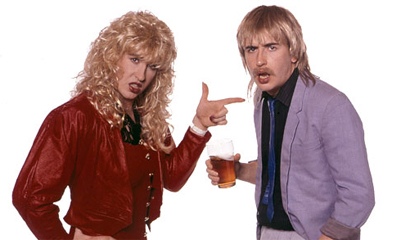 l to r Fat Bob (John Thomson), Paul Calf (Steve Coogan), Roland (Patrick Marber)
l to r Roland (Patrick Marber), Fat Bob (John Thomson), Paul Calf (Steve Coogan)
Steve Coogan as Paul Calf
Steve Coogan as Paul Calf
Tony (Gary Olsen) & Paul Calf (Steve Coogan)
l to r Fat Bob (John Thomson), Paul Calf (Steve Coogan), Roland (Patrick Marber)
Steve Coogan as Paul Calf
Steve Coogan as Paul & Pauline Calf
Steve Coogan as Paul & Pauline Calf
The Paul Calf Video Diary
Paul Calf Video Diary
INT. PAUL'S BEDROOM - DAY

MUM:
Oooh, Paul, there's a red light come on. What does that mean?

PAUL:
Leave it alone Mum, it's Fat Bob's video. He got it for Christmas.

MUM:
Your tea's on the side.

SHE LEAVES. SILENCE. PAUL SITS UP, HAWKS ETC. GETS OUT OF BED IN UNDERPANTS ONLY, PICKS UP TEA.

PAUL:
Mum, have I got any pants?


Thus began the first of three Paul/Pauline Calf stories, shot as video diaries - "The Paul Calf Video Diary", "The Pauline Calf Wedding Video" (also known as "Three Fights, Two Weddings & A Funeral") and the "Get Calf!" episode from Coogan's Run.

These video diary-style half hours chronicling the life of Paul, Pauline, Fat Bob, Mum and girlfriend Julie were all shot on location near Eccles, in Greater Manchester. In the words of the original submission to the BBC:

"The show is Paul Calf's Video Diary, showing his life and the events which happen to him on the 30th and 31st of December 1993. It is not a real Video Diary, nor has he been "commissioned" by the BBC as part of their series; he has simply decided to film his life on his mate, Fat Bob's, video camera.

The setting is Paul's home town, an unidentified smallish ex-industrial mess somewhere to the North of Manchester and to the West of Yorkshire. It is a place with housing estates, lock-ups, pubs, a few students and bugger all to do on a Saturday night."

As well as introducing all the characters in the Calf ménage (including John Hannah creating his role of Mark the student), the show also featured co-writer Patrick Marber as Roland, the student who Paul "befriends". Henry Normal didn't appear onscreen until the Wedding Video.

In fact, work had started on a third Video Diary, to be transmitted Christmas 1997, in which Julie is having Paul's baby. Entitled "A Calf Is Born", it was scheduled, but had to be shelved as John Thomson became unavailable. See the "Extras" for the treatment for the show that never was...
Paul Calf Video Diary
Have a look at the photo gallery - Paul Calf, Fat Bob and Roland in the park...
To buy the Paul & Pauline Calf Video Diaries combined as one DVD click here
And now the BBC have released the entire Coogan oeuvre in one glorious brick of a thing called "Steve Coogan - The Complete Collection", and it includes both the Paul & Pauline Calf Video Diaries amongst many other goodies. To buy that, take a deep breath and click here
And here, seen for the first time, is the treatment for the show that never was...
A CALF IS BORN
He's having a baby.
Paul doesn't know how it happened. Julie doesn't know how it happened. Fat Bob hasn't even noticed Julie's nine months pregnant. But on Christmas day, Paul and Julie are due to bring a baby Calf into this world. Kicking, screaming, red in the face and helpless. Just like its father.
"A Calf Is Born" is Paul Calf's video diary of his friends, family and events leading up to and including the birth, which Paul hopes will be a testament of posterity for his new baby. Something the infant will learn to watch and cherish and eventually accidentally tape over with the City match.
In the meantime, Fat Bob and Pauline are going through the Seven Year Itch - only after two years. Will their marriage survive? Is Pauline being unfaithful? And what will Fat Bob do if she is? Meanwhile Mum has a new man in her life. And Grandma Calf has a new hoover. This complicated love-octagon is set to explode on Christmas day itself, all faithfully recorded by the unsteady hand of Paul Calf's inimitable video technique.
"A Calf Is Born" is a return to the welcoming bosom of the Calf family, as we see burgeoning life, maturing relationships, blossoming love and a couple of right good punch-ups. Essential viewing for this Xmas (unless there's a Chuck Norris movie on the other side).
Steve Coogan & Henry Normal
---
Take it further ...
Other shows in TELEVISION ...