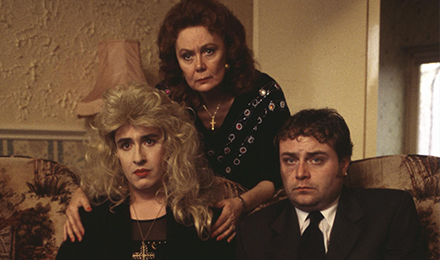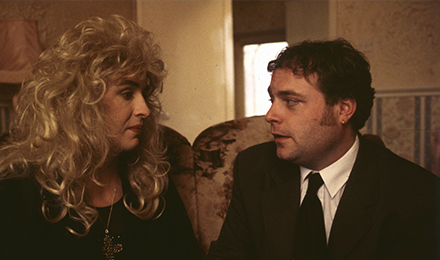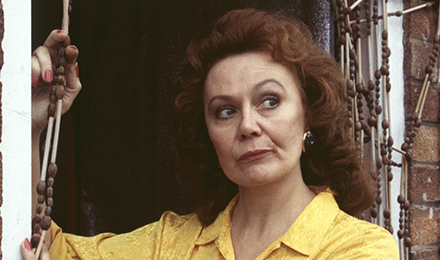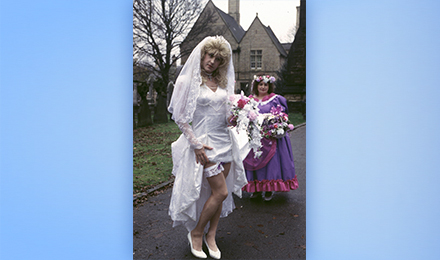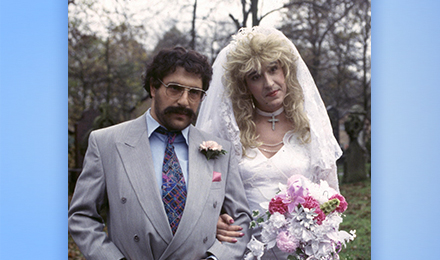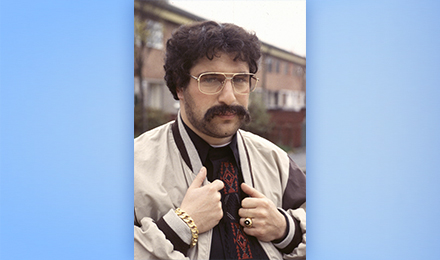 "Pauline Calf's Wedding Video" - Spiros (Patrick Marber) & Pauline Calf (Steve Coogan)
"Pauline Calf's Wedding Video" - Paul Calf (Steve Coogan)
"Pauline Calf's Wedding Video" - from l to r Spiros (Patrick Marber), Pauline Calf (Steve Coogan), Mark (John Hannah)
"Pauline Calf's Wedding Video" - Fat Bob (John Thomson) & Mum (Sandra Gough) console Pauline after the death of Spiros
Mum (Sandra Gough) and Fat Bob (John Thomson) in his "Mr Clutch" wedding finery
Fat Bob (John Thomson) consoles Pauline after the death of Spiros
Spiros (Patrick Marber) & Pauline Calf (Steve Coogan)
Paul Calf (Steve Coogan) with a bridesmaid
Pauline Calf (Steve Coogan) - the bride
Pauline Calf (Steve Coogan) in her wedding finery
The happy couple - Spiros (Patrick Marber) & Pauline Calf (Steve Coogan)
Spiros (Patrick Marber) - aka a fat bloke from Greece with a tache
Pauline Calfs Wedding Video
Pauline Calf's Wedding Video
Here's the original Press Release for the second part of the Paul & Pauline Calf trilogy which won the 1994 BAFTA Award Best Comedy:

THREE FIGHTS, TWO WEDDINGS AND A FUNERAL
PAULINE CALF'S WEDDING VIDEO


starring Steve Coogan

Yes, it's true! Mancunian bombshell Pauline Calf is trotting up the aisle to marry the man of her dreams (not counting Patrick Swayze). Will she be wearing white? Will Paul Calf be giving her away? And what is Fat Bob doing in an open grave? Following on from the much-acclaimed "Paul Calf Video Diary", broadcast on New Years Day 1994, BBC2 has commissioned Pozzitive Television to make the follow-up - Pauline's Calf Wedding Video. Something old, something new, something borrowed and something with Patrick Swayze in it, as we take Pauline through her reunion with her fantasy lover, her hen night with the gang and the wedding that goes horribly wrong. But, after a knife fight in a toilet, a broken arm in a disco, a shovel in the face and a nasty accident with a Jaffa Cake, it all has a happy ending ... and some very special news.

Starring Steve Coogan in his dual role as unlovable Mancunian lout Paul Calf, and his own sister, unblushing bride-to-be Pauline Calf, the show features all the regular team - Patrick Marber and Henry Normal as co-writer/performers, John Thomson as Fat Bob, Sally Rogers as Paul's long-suffering girlfriend Julie and Sandra Gough as Paul's mum. Also returning is Gary Olsen as Tony, who will be showing parts of his anatomy that you certainly wouldn't get to see on "2.4 Children".

The show also features John Hannah (Four Weddings And A Funeral), reprising his role as Mark, cynical student, and quoter of Auden. And yes, he does get to read the poem at the funeral ...
Pauline Calf's Wedding Video
"Three Fights, Three Weddings & A Funeral"
First Tx: 29/12/94 BBC2
Pauline Calf's Wedding Video
View the photo album of Pauline's magical romantic wedding to a fat Greek bloke called Spiros...
Look at this intimate family group of proud mum Pauline Calf, proud baby Petula Dusty and proud cuckold Fat Bob
You can buy the DVD of this and the Paul Calf Video Diary by clicking here...
And now the BBC have released the entire Coogan oeuvre in one glorious brick of a thing called "Steve Coogan - The Complete Collection", and it includes both the Paul & Pauline Calf Video Diaries amongst many other goodies. To buy that, take a deep breath and click here
---
Take it further ...
Other shows in TELEVISION ...