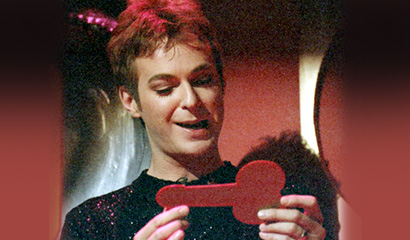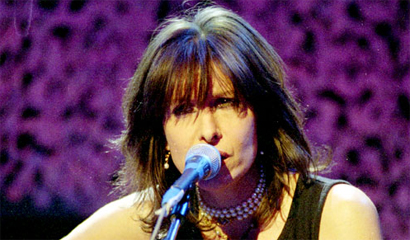 "The Big Snog" - Steve Coogan as Alan Partridge
"The Big Snog" - Jeremy Hardy
"The Big Snog" - Phil Kaye bodysurfing the crowd
"The Big Snog" - Julian Clary hosts "A Question Of Spurt"
"The Big Snog" - Chrissie Hynde
"The Big Snog" - Lee Evans
The Big Snog
"The Big Snog" was the second of Pozzitive's three World AIDS Day specials, going out on Channel 4 on December the 1st 1995. We can do no better than to quote here the original Press Release: WORLD AIDS DAY 1995, CHANNEL 4 - THE BIG SNOG A show to make you laugh, to make you cry and to make you practise safer sex. The Hysteria Trust was set up in 1987 by Stephen Fry to raise monies for AIDS charities in the UK in the midst of the "hysterical outcry" that surrounded AIDS & HIV at that time and the accompanying bigotry, misinformation and lack of compassion. In 1995 there is still no cure. The hysteria may have gone away (like Stephen Fry), but the bigotry and misinformation continues. The lack of education and understanding is providing the backdrop for the continuing spread of the virus in a new, younger generation.
The Big Snog is targeted specifically at this 15-30 age group, the fastest growth sector of HIV in the UK. The Big Snog has three aims.
1) To make people laugh & provide a positive and uplifting evenings entertainment in support of World AIDS Day. This will be achieved though a star-studded evening of comedy and music on Channel 4 on November 25th at 10.45pm. The Big Snog presents a mouth-watering line-up including Lenny Henry, Dale Winton, Steve Coogan (as Alan Partridge & Pauline Calf), Paul Whitehouse, Julian Clary, Eddie Izzard and Lee Evans and many more.
2) To focus awareness on the issues surrounding HIV & AIDS at World AIDS Day 1995 & educate on some of the key issues. This will be achieved via the four mini-documentaries that will be shown on Channel 4 within the transmission featuring people talking about living with HIV/AIDS. There will also be a dozen straight talking safe sex messages from stars such as Jean-Paul Gautier & Antoines De Caunes, Frank Skinner, Mariella Frostrup, John Scales and many more.
3) To raise huge amounts of money for the Hysteria Trust to distribute to HIV & AIDS charitable projects throughout the UK to improve the quality of life for those affected by AIDS and to help try to prevent the spread of the virus. This will be achieved by the ticket receipts from the live show and more importantly by the public donating their much needed cash to The Hysteria Trust.
The Big Snog, The Live Show takes place at The Astoria Theatre on Monday November 20th
The Big Snog will be shown on Channel 4 Television on Saturday 25th November at 10.45pm.
The Big Snog
First Tx: 25/11/95 22.45-00.00 Channel 4

---
Take it further ...
Other shows in TELEVISION ...