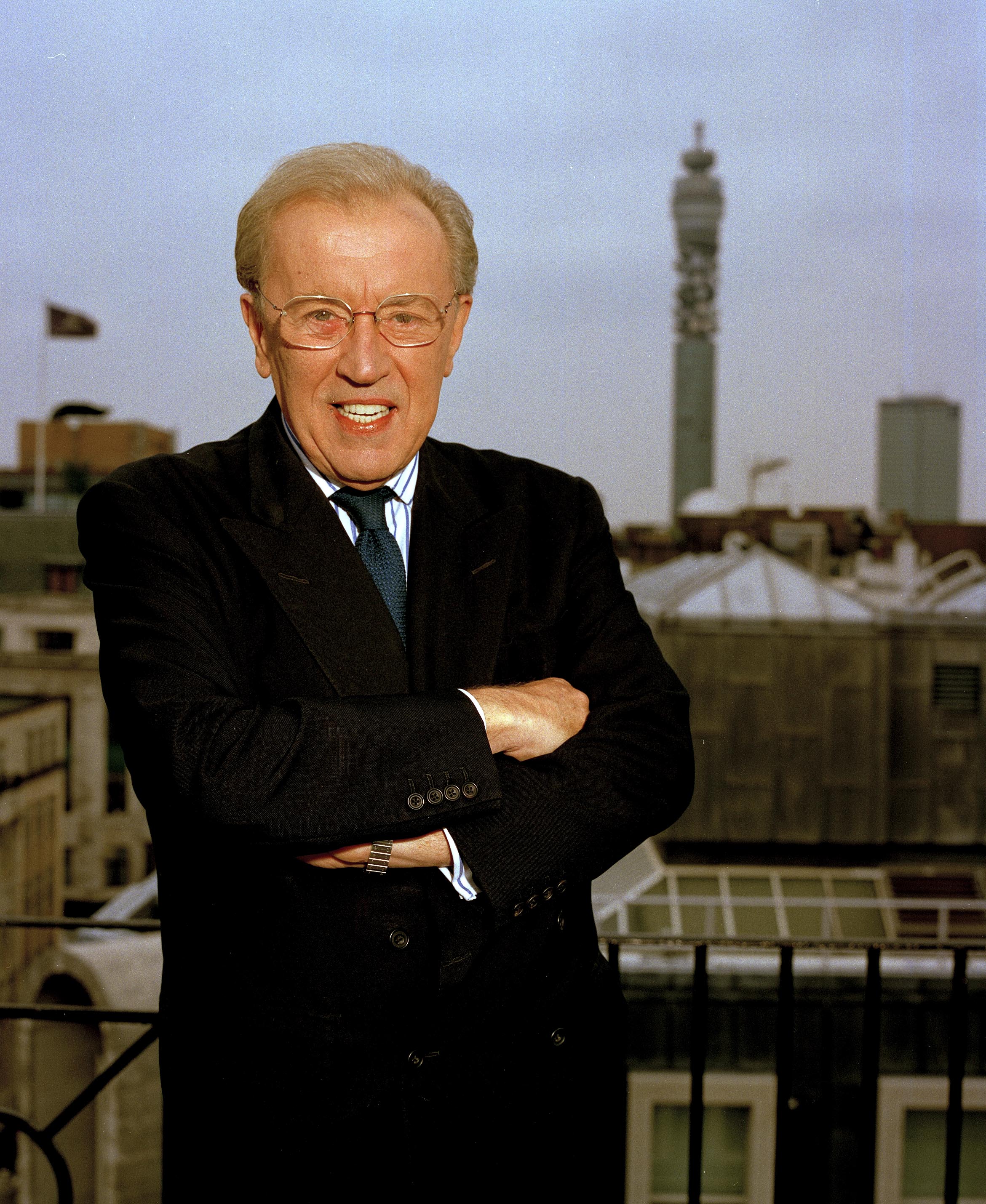 The Strategic Humour Initiative
The Strategic Humour Initiative - Sir David Frost (photographed on the roof of Pozzitive!)
The Strategic Humour Initiative
The Strategic Humour Initiative
"The Strategic Humour Initiative" as a joint US/Canadian production (hence the title - a pun of sorts on the US Star wars defence programme, which was actually called the "Strategic Defense Initiative").

The idea was to create a topical comedy and variety show hosted by Sir David Frost, recorded in London and adapted transatalanticaly for broadcasting by WGBH Boston (and then on to all the Public Broadcast Service channels in the States) and the Canadian Broadcasting Company in Canada.

The show was "co-hosted" (a phrase reached after much diplomacy) by Jimmy Tingle a US comedian and a Canadian comic actress, Mary Walsh, the star of one of Canada's most successful and long-running comedy shows, "This Hour Has 22 Minutes".

And if that sounds complicated, it was. Written and created by the London team, but with inserts recorded in the US and Canada in concert with us, taped in advance and then satellite-linked over to the UK to be edited in time to show to the London audience, the show then had three different versions of itself edited for the UK, UIS and Canadian versions.

This led to long long three or four-way Conference Calls, where we quickly discovered that there was no love lost between the US and the Canadian production teams, so we tended to sit back and let them tussle a bit before coming up with a possible solution.

The UK contributions to the show were very strong, with Jimmy Carr and Rory Bremner doing a set, and Olivia Colman performing "The Cat In The Hat In Iraq", a memorable spoof of Dr Seuss's "Green Eggs & Ham" which started with a cartoon George Bush saying "I do not like Saddam I am...". Written by Steve Punt, it was brilliantly illustrated by Graphic Designer and long-term collaborator Andy Carroll.

The show was also the first meeting of US satirist (and creator of satirewire.com) Andy Marlatt and UK writer Tony Roche; they went on to create (The Comic Side Of) 7 Days for the BBC, writing 19 half-hour shows in one year.
The Strategic Humour Initiative
First Tx: 15/10/03 WGBH Boston/PBS (USA) CBC (Canada)

TV legend David Frost hosts a Comedy Coalition of three countries – the UK the US and Canada – to present a topical look at the world in a week where Arnold Schwarzenegger was elected Governor of California, the fruitless search in Iraq for Weapons Of Mass Destruction went on and on and the relationship between France and President Bush was as rocky as ever…
Hosted by
Sir David Frost
Co-Hosts
Jimmy Tingle
Mary Walsh
and starring
Jimmy Carr
Carla Collins
Rory Bremner

(and for the CBC Show only) -

with
Russell Peters
Dean Jenkinson
Jessica Holmes
Don Ferguson
and featuring
Olivia Colman
Hugh Dennis
Martin Trenaman
Script Consultant
Fred Metcalf
Written by
Simon Blackwell
Mark Burton
Dan Gaster
Jon Holmes
Andy Marlatt
Steve Punt
Danny Robins
Tony Roche
Neil Shand
Dan Tetsell

For David Paradine Television, Inc.
Senior Producer
David Wilson

Production Assistant
Carolyn Brakefield


For The Canadian Broadcasting Corporation
Writers
Mark Critch
Mary Walsh
Gord Holtam (CBC Show only)
Dean Jenkinson (CBC Show only)
Rick Olsen (CBC Show only)
Russell Peters (CBC Show only)

Producers
Geoff D'eon
René Dowhaniuk

Directors
René Dowhaniuk
Henry Sarwer-Foner

Executive In Charge Of TV Comedy
Anton Leo

Director Of Special Projects
George Anthony


For WGBH Boston
Producer/Director
Vincent J. Straggas

Co-Ordinating Producer
Fay Sutherland

Production Assistant
Scott Limanek

Publicity
Susan Barrett
Tracy McArdle
Tom Stebbins

Station Relations
Caroline Santangelo

Executive Producer
Judith Vecchione

Executive In Charge
Margaret Drain


For Pozzitive Television
Titles
Jump

Graphics
Andy Carroll

Costume
Marcia Stanton

Make-Up
Christine Cant
Brenda Yewdell

Production Co-Ordinator
Victoria Phelan

Script Supervisor
Sue Davies

BBC Studio Resources Manager
Andy Waters

Videotape Editor
Mykola Pawluk

Senior Cameraman
Dave Box

Sound Supervisor
Tony Revell

Lighting Director
Martin Kempton

Production Manager
Chris Iliffe

Designer
Andrew Howe-Davies

Special Thanks To
Herb Sargent
Chris Keyser
Jimmy Tingle's Off Broadway Theatre

Associate Producer
Jed Leventhall

Executive Producers
David Frost
John M Florescu

Directed by
Geoff Posner
Produced by
Geoff Posner
David Tyler
---
Take it further ...
Other shows in TELEVISION ...